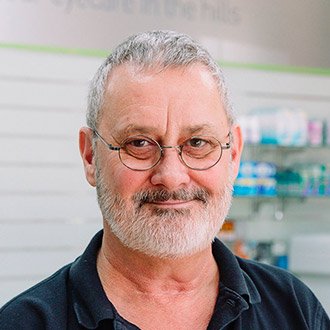 Murray Nagle
Principle Optometrist
Murray graduated as an Optometrist from The University of New South Wales in 1979. His first professional job was with Gibb & Beeman in George St Sydney, a long established practice where he was fortunate enough to learn the traditional skills of spectacle making as well as optometry.
He has had a wide ranging 35+ years of experience in practice including providing eye examinations to the Australian Defence Forces, General Motors Holden, Ford, Toyota, CSIRO and the Government Aircraft Factory.
Murray has also provided extensive Aged Care Facility Support and post-operative care following surgery.
He was in one of the first groups of Optometrists to complete the Ocular Therapeutics course run by the Pennsylvania College of Optometry in 1993. By 2000 this received endorsement to prescribe PBS medicines.
Murray has been married to Kerry for more than 35 years and together with their son, James, enjoy living and working in the hills. He was brought up on a farm in the Hawkesbury district in NSW and appreciates the value and rewards of hard work.